Bonita Springs 2018 Patriots Day Service
The Bonita Springs Patriot Day Service will be held at 6:00 p.m. at the Liles Hotel Plaza, located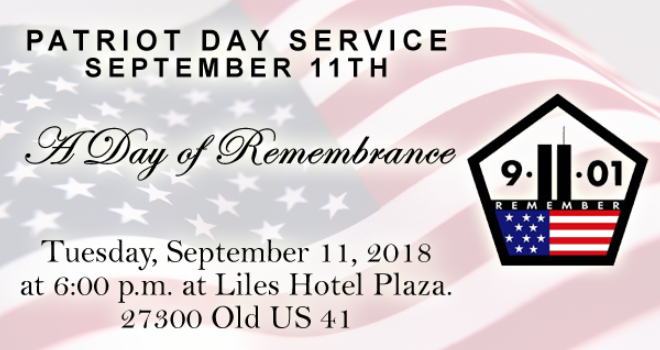 at 27300 Old 41 Road Bonita Springs, FL on Tuesday, September 11, 2018. The service will pay tribute to the valiant firefighters, police officers, emergency personnel and citizens who were involved in the September 11, 2001 attacks. For more information about the Patriots Day Service, call the City of Bonita Springs at 239-949-6262 or Visit www.cityofbonitasprings.org.

Bonita Springs 2018 Coastal Clean-Up Event
Please mark your calendars for Saturday, September 15, 2018 and join the City of Bonita Springs and Keep Lee County Beautiful for the annual Coastal Clean-Up at Lovers Key Event Field, located at 8700 Estero Boulevard Bonita Springs, Florida.
Pre-registration for volunteer groups, can be found by clicking here. Volunteers are asked to meet at Lovers Key Event Field at 8:00 a.m. to register. A light breakfast from Dunkin Donuts will be provided by Doc's Beach House for volunteers. During the registration period, volunteers will receive trash bags, gloves and a map of the clean-up area. After the clean-up, volunteers return to the sign-in area, to enjoy free hot dogs from Buffalo Chips and refreshments. Additional sponsors include Royal Scoop Ice Cream, the Imperial River Conservancy, and Keep Lee County Beautiful Inc.
The Coastal Clean-Up is ideal for students in need of community service hours needed for school related opportunities and for anyone else, willing to clean-up Bonita Springs. For more information about the event please call City Hall at 239-949-6262 or visit www.cityofbonitasprings.org